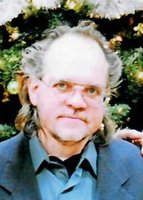 Michael Clement "Mike" McCloskey, III
Michael Clement McCloskey, III, 62, passed away on Friday, February 19, 2021 in Brunswick.
He graduated from Lansingburgh High School, Class of 1976.
Michael was a Licensed Master Electrician with I.B.E.W. #236 for 44 years and was a member of the Executive Board.
He was a member of the Colonie Elks.
Michael enjoyed Flea Markets, Carlisle Car Shows in PA and collecting model trains.
Michael's survivors are his mother Nancy McCloskey (late husband, Michael, Jr.), sisters; Marcy Molnar and Melanie Hickey, godson and nephew Brandon (Evie) Hickey, Professional Firefighter and nephew Shawn (Miae) Hickey, U.S. Army, great nephews Nathan Hickey and devoted companion Cathy Cookingham.
Private interment at Oakwood Cemetery in Troy and funeral arrangements will be held at the convenience of the family.
Please express on-line Condolences using the tab on this website.