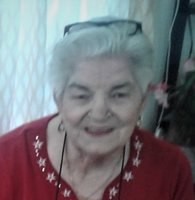 Betty Jean Sandercox
BETTY JEAN SANDERCOX
Betty Jean Sandercox, age 83 of Pittstown, NY, passed peaceful with her family by her side in Bradenton, Florida on March 5th, 2021.
She was the devoted wife of the late Donald Sandercox, mother of Richard (Teresa) Sandercox, late Kenneth (Pamela) Sandercox, and Mark (Debbie) Sandercox, dear sister Donna (Pastor Joseph) Flynn, proud grandmother of Justin (Ann), Leah, and Kayla (Kyle) Sandercox, Brennan (Destiny) Sandercox and Nichole Sandercox, Kelly Paulin, Amy Shepard, and Amanda (Jim) Nelson, step grandmother to Anthony and Katherine Cietek, also survived by many great grandchildren and great-great grandchildren, nieces and nephews and their companions, cousins, wonderful friends and her devoted church family. She was also survived by her beloved dog, Cricket, who was the joy of her life.
Betty was a woman of true faith who was devoted to God, family and friends.
She was employed by Sanvidge Funeral Home as well as a medical biller for Troy Orthopedics.
Betty had a great love for wrestling and enjoyed watching her children and grandchildren partake in the sport.
She was a long standing volunteer at Victorious Life Christian Church Soup Kitchen.
Relatives and friends are invited to celebrate Betty's life on Tuesday, March 30, 2021 at 12:30 p.m. at Victorious Life Christian Church, 1835 5th Ave, Troy, NY 12180.
Betty Jean will be laid to rest with her beloved husband Donald on Tuesday morning, March 30, 2021 at 10:30 a.m. at the Gerald B.H. Solomon Saratoga National Cemetery in Schuylerville where her brother-in-law, Pastor Joseph Flynn will offer the Committal Service.
In lieu of flowers, donations in memory of Betty can be made to Victorious Life Christian Church, 1835 Fifth Ave, Troy, NY 12180.
Funeral arrangements have been entrusted by the family to the John J. Sanvidge Funeral Home, 565 Fourth Avenue, Troy, New York 12182.
Please feel free to express your on-line Condolences by using the tab on this web site.