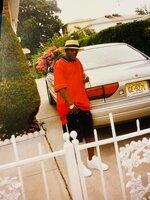 Corey McRae
Corey McRae, 51, of Waterford, entered into eternal life on Tuesday, October 26, 2021 from complications due to the coronavirus.
Born in Brooklyn, NY, he is the son of Mary Harris-McRae Baldwin and the late Winifred McRae and William (Phil) Baldwin. Corey was a graduate of Andrew Jackson High School in Jackson Heights.
Mr. McRae had been a truck driver employed by Holbrook Lumber of Guilderland City. Corey was a member of the Bethel Baptist Church in Troy, N.Y. loved driving, cracking jokes and for those who knew him he was just a comedian. He also enjoyed basketball and football. Corey loved spending time with his family and friends.
Beloved son of Mary and Winifred, devoted father of Corey McRae of Atlanta, GA, dear brother of Beverly McRae of Green Island, NY, Jacqueline McRae of Brandon, FL, Ramsey McRae of Brandon, FL and the late Curtis Harris, loving nephew of Doris Harris and Louis Harris of Sayreville, New Jersey, also survived by several nieces and nephews and hosts of cousins.
Family and friends are invited to visitation on Wednesday, November 3, 2021 from 9:00 a.m. to 11:00 a.m. at the Bethel Baptist Church, 2165 Fifth Avenue, Troy, NY 12180 and to the Home Going service which will begin in Church at 11:00 a.m. that morning, celebrated by Rev. Jackie Robinson. Facial covering is required within the Church during the visitation and the funeral service.
Interment will be held on Thursday, November 4, 2021 at 12:30 p.m. at Rosehill Cemetery, 792 East Edgar Rd., Linden, NJ 07036.
Corey's family wishes to thank everyone for their kindness and prayers in this troubling time.
Those desiring, may make memorial contributions to the Bethel Baptist Church, 2165 Fifth Ave, Troy, NY 12180 or to the American Cancer Society, 1 Penny Lane, Latham, NY 12110, in memory of Corey McRae.
Please feel free to exrpess your on-line Condolences by using that tab on this website.