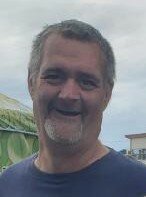 Robert J. "Bob" Rogers
Robert J. "Bob" Rogers, of Saratoga Springs, 54, passed away on Saturday, February 26, 2022.
Born in Albany, New York, he is the son of David Rogers and the late JoAnn Brady Rogers and was a graduate of Shenendehowa High School.
In addition to his father David, Bob is survived by his children; Jocelyn (Michael) Filak, Robert "Robbie" Rogers, Katelyn Rogers and Jeffrey Rogers, two grandchildren Logan Filak and Bryson Rogers, many aunts, uncles, cousins, friend and extended family. He had also been the companion of BillieJo MacWhinnie, who is the mother of Katelyn and Jeffery.
Private funeral arrangements have been entrusted by his family to the Gordon C. Emerick Funeral Home, 1550 Route 9, Clifton Park, NY 12065.
The Rogers family would like to express their sincere appreciation for the care from those at the Saratoga County Shelter.
Those desiring, may make memorial contributions to the Saratoga County Shelter, 14 Wallworth St., Saratoga Springs, NY 12866, in memory of Robert J. Rogers.
Please feel free to express your online Condolences by using that tab on this page.