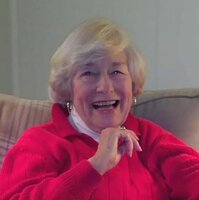 Edna Frances "E.F." Holmes
Edna Frances (E.F.) Gilliland Holmes
After enjoying over 93 years of life, our mother EF Holmes passed away July 26, 2022.
She was born on January 24, 1929 in Harriman, Tennessee to Hazel and John Gilliland. EF was predeceased by her husband Art, her sisters Clara and Eleanor, her sister-in-law Nancy Gilliland and her nephew Randy Bennett. EF is survived by her brother John Gilliland of Saratoga, daughters Elizabeth (Betsy) Holmes (Ralph) of Deering NH, Melissa Hatch (Greg) of Ballston Lake NY and Jennifer Berger (Jeffrey) of Moreau NY. Nieces Alice Carroll, Julie Carroll, Ann Carroll and Cynthia Gilliland and her nephew Len Carroll. EF also leaves her grandchildren, Julia Hatch, Evan Hatch, Gill (Bre) Conners and Eric Berger. She welcomed her great granddaughter Palmer Conners on June 25th.
EF grew up in rural eastern Tennessee, graduated from Harriman High School and Tennessee Technological Institute, where she earned her teaching degree. She was a noted beauty and was named Homecoming Queen at both schools. After receiving her degree she was a home economics teacher for the children of employees at the Oak Ridge Atomic Power Laboratory, where she met her future husband Art who was a chemist there. Art was from Massachusetts, and both our parents held on to their distinctive Southern and New England accents. After marrying, Art and EF moved to Buffalo NY- a northern cultural and weather shock our mother ultimately embraced wholeheartedly. Their daughters Betsy and Melissa were born in Tonawanda, and mom made lifelong friends from that area.
Art and EF eventually moved to Scotia where Art was an engineer with General Electric and EF was involved with the GE Wives Club. Their third daughter Jennifer was born in Schenectady, and EF stayed at home while her children were young.
In 1968 our family moved to Clifton Park, and in 1980 EF became a realtor with Realty USA. She was very successful in sales but ensured that she had time to spend the summer at the family camp on Galway Lake. She was a volunteer usher at SPAC and particularly loved the NYC Ballet performances. She was a fierce card player, bridge being her game of choice.
Post-retirement, EF and Art wintered in Nokomis, Florida, coming back to the Galway Lake camp for summers. EF volunteered at a variety of Nokomis neighborhood fundraisers annually. She also traveled extensively; her favorite destinations were Alaska and New Zealand.
EF continued to commute between homes until she was 89; she has been a Saratoga Springs resident for the remainder of her life
Our mother was a fiercely strong woman, beautiful and loving. She was, and always will be, a force in her daughters' lives. She lit up a room with her smile and was just as comfortable in an evening dress as a swimsuit. We will miss you, mom. The family would like to thank Home of the Good Shephard in Saratoga Springs for the excellent care our mother received in the 14 months she was there.
The family will have a private celebration of EF's life. Donations may be made in her name to Hospice of Saratoga Springs, NY.
Please feel free to express your online condolences by visiting gordoncemerickfuneralhome.com
Please feel free to express your online Condolences by using that tab on this website.