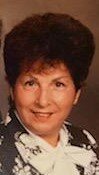 Rosina Sanacore
Rosina Sanacore, 94, former resident of Halfmoon, died on Sunday, August 21, 2022, at the Teresian House Center for the Elderly in Albany. She was born in Brooklyn, NY and was the daughter of the late Gandolfo and Josephine Franchini Orlando. Rosina was a graduate of the East 4 Vocational School in NYC. She worked in the Technical Support Dept. for the IBM Corporation, in Boca Raton, FL, for many years.
She was the beloved wife of, the late, Angelo Michael Sanacore. She enjoyed bowling and was a member of the Halfmoon Senior Citizens Center. Rosina was a Managing Supervisor for the Emerson Radio and Phonograph Corporation and a true to life "Rosie the Riveter." She assisted in the manufacturing of US bomb detonators during WW2.
She was a communicant of Corpus Christi Roman Catholic Church in Round Lake. Devoted mother of Michael Sanacore of Halfmoon, cherished grandmother of Teresa Maria Dodkowitz (Rick) and Michael Joseph Sanacore and is survived by several nieces and nephews.
Rosina was predeceased by all of her 7 siblings.
Calling hours will be from 3-7 pm, Sunday, in the Gordon C. Emerick Funeral Home, 1550 Rt. 9 Clifton Park, NY 12065.
Mass of Christian Burial will be celebrated on Monday, 9:30 am, at Corpus Christi Church in Round Lake.
Interment will be in the Gerald BH Solomon Saratoga National Cemetery alongside her husband.
For online condolences, please use that tab on this page.