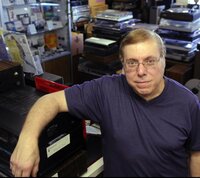 Ronald V. "Ronnie" Alvaro
Ronald V. Alvaro "Ronnie" of Halfmoon, NY, beloved father, grandfather, brother and friend, died suddenly in his home on November 14th, 2022. Born to the late Anthony and Mary Alvaro in Albany, New York on July 21st, 1945.
He graduated from Colonie High School in 1963 and went on to study courses in electronics at Hudson Valley Community College .
Ronnie had a love and passion for music. He began collecting records as a young boy and then went on to become a talented guitarist performing with many bands, all the way up to his passing. He opened The Stereo Workshop on October 3, 1977.
Ronnie and his shop became a staple of his community, fixing stereos, selling records and making friends. Ronnie was quick with a laugh, and always there to listen.
Loyal to his customers and a rock for his family. Generous, kind, gentle, and wise, he will be missed by the many who knew and loved him.
Ron is survived by his sons, Darren and Jason Alvaro, daughter-in-law, Sara Alvaro, stepchildren, Elizabeth, Paul and David Chojnacki, his grandchildren, Simon and Elyas Alvaro, and brother and sister, Jackie and Janice Alvaro.
Friends and family of Ronnie are invited to pay respects to his family on Saturday, December 3rd at Gordon C. Emerick Funeral Home, 1550 Rt. 9 Clifton Park, NY 12065 from 11 A.M. to 1 P.M.
A celebration of his life and open sharing of memories will happen in the funeral home from 1 P.M to 3 P.M.
In lieu of flowers, kindly make donations to the American Heart Assn., 4 Atrium Dr. #100, Albany, NY 12205