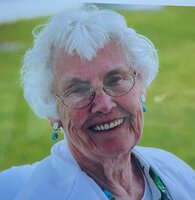 Frances Clare Newman McClure
Frances Clare Newman McClure passed away on December 16 after 97 years well lived.
Predeceased by husbands Robert B. Newman and Charles J. McClure, eldest son David B. Newman, daughter Nancy J. Habel, grandson Michael T. Newman, stepdaughter Ginny and husband Dick Shakerley, sisters Marion (Lowell) Strait and Doris (Roy) Voturno.
Survived by son Thomas Newman (Donna), daughter in law Arlene Newman and son in law Timothy Habel. Granddaughters Jaimie (Michael) Sander and Jessica (Darin) Stever. Great grand children, Anna Clare and William Frederick Sander and Liam David Stever. Stepson Michael (Flo) McClure and the McClure and Shakerley Families. As well as several nieces and nephews.
The family would like to thank the staff of the Wesley Community, 2 Victoria for all the love and care they gave to Clare.
Funeral will be held on Friday, August 4, 2023 at 11:00 a.m. at the Gerald B.H. Solomon Saratoga National Cemetery, 200 Duell Rd., Schuylerville, NY 12871.
For those desiring to join the Funeral Procession, please gather at the Gordon C. Emerick Funeral Home, 1550 RT-9, Clifton Park, NY 12065 that morning beginning at 10:00 a.m.. We will depart from there at 10:15 a.m.
If you wish to meet at the cemetery, please arrive at the cemetery between 10:35 a.m. and 10:55 a.m. that morning to avoid joining the prior funeral. Upon entry into the cemetery pull to the right, alongside the curbing to avoid joining the prior funeral cortege.
Please feel free to offer your on-line Condolences at gordoncemerickfuneralhome.com