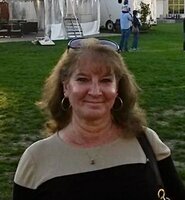 Sandra J. Temme
Sandra Joan Temme passed away on Tuesday, January 17th in her home of 41 years with her loving family by her side. She was 62 years old.
To her children (Zachary W. Temme, Garrett R. Temme and Sarah E. Morehouse), she was Mom, others just called her "Sandy". Sandy's maiden name is "Mallory" and she grew up in the Albany area where she would attend Guilderland High School. Sandy would later attend her Senior Prom in the Spring of 1979, where she would meet the love of her life "Wayne E. Temme" and just like out of a movie, they would show up with different dates and leave with each other. Sandy also attended a summer camp while in high school located in Cooperstown, NY called Path Finder. She would share a lot of fond memories with her children of her times at that Camp. She always loved nature and the outdoors. After Sandy and Wayne met, she would introduce Wayne to that summer camp where they would become camp councilors together and only 2 years later, on June 6th 1981 they would marry on the camp ground.
Shortly after marriage, Sandy would have her first child, Zach. Then a couple years later, she would have the twins (Garrett and Sarah.) Family get togethers and vacations were always very important to Sandy, whether it was going camping up at Long Lake, NY, going to the beach at Cape Cod, MA or even just a simple dinner and a movie with the family. These moments are what made her families bond what it is today.
Sandy was employed as a Paralegal where she would feel the gratification of helping others. And while Sandy loved her career, family always came first. Because of Sandy's love for people and family, she always looked at her children's friends as extended family. She would keep her door open for friends if they needed a place to stay and include them in any family get togethers/ vacations they had. Her kids would go on to fall in love and find their own special people (Max Morehouse, Alicia Temme and Melissa Goodman) and like her children's friends, she would accept them instantly as loved ones.
About a month before Sandy passed away she became a grandmother for the first time to Melody Joan Morehouse, a final gift that brought joy to her heart.
In June 2022, Sandy and Wayne celebrated 41 years of marriage. Another year to remind who's listening what a true bond in marriage looks like. Sandy loved her husband (her high school sweetheart) with all of her heart. She showed him how to not take life too seriously and how to continue to have fun even through the toughest of times. Wayne will continue to cherish every moment he had with her.
Sandy gave all of herself to her family. Her life lessons, sense of adventure, and humor will be passed on from her kids to her Grandchildren. Life will never be the same for her family but Sandy's foot prints will live on. Sandy will live in every sunset they see in Cape Cod, every star filled night they see camping up in Long Lake, and every laugh made during a family dinner. She may be gone, but she still lives in her loved ones hearts.
Her life will be remembered and cherished not only by her husband and kids but her brother Steve Mallory and his wife Deana Mallory and their son Jack Mallory, her mom Carolyn DeCerce, niece Megan Mallory, in-laws Lori Temme, and the Guay Family.
Relatives and friends are invited to Calling Hours at the Gordon C. Emerick Funeral Home, 1550 RT-9, Clifton Park, NY 12065 on Saturday, January 21, 2023 from 1:00 p.m. to 4:00 p.m. and to her Celebration of Life Ceremony which will begin at 3:00 p.m.
Those desiring, may make memorial contributions to the Community Hospice, in memory of Sandra J. Temme.
Please feel free t offer your on-line Condolences by using that tab on this website.