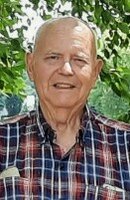 Andrew R. Cook
Andrew Roy Cook, a 51-year resident of Ballston Lake, NY passed
on to his heavenly home on January 17 at the age of 89.
Andy was born on September 2, 1933 to George and Nina
(Garnsey) Cook in North Bay, NY. He was an only child, but grew up in a
small community surrounded by many cousins and extended family.
On September 22, 1956, he married his High School sweetheart,
Dorothy (Snyder) Cook.
A brilliant mathematical mind led him to study Aeronautical
Engineering at Rensselaer Polytechnic Institute in Troy, NY. He went on
to earn his Masters degree at the University of Southern California.
He moved to California to pursue roles at Northern American Aviation and
Lockheed Missile and Space where he contributed to the Gemini
Program: Target vehicle development.
He started his family in various moves from southern to northern
California where his three daughters were born. He moved back east in
the late 1960's to be closer to his aging parents and extended families.
He began many years of work for General Electric in their Gas Turbine
Division, until he retired in August, 1995.
He was a long-time member of King of Kings Lutheran Church in
Clifton Park, NY. Andy cherished receiving God's gifts and serving along
side his dearly loved church family.
Andy was a voracious reader and enjoyed lively interests in many
topics from theology to classical literature; biology to history;
astronomy to poetry; chemistry to classical music. His mind was hungry
for knowledge and he could bring forth information from memory on
almost any topic of interest.
In retirement he became a caregiver, first to his beloved wife,
Dorothy, then his aging father, followed by his mother-in-law and then
anyone else in need.
The highlights of his week in later years were worship services at
his church, along with a Wednesday morning men's group in which
lively conversations on religion and politics were heartily debated and
enjoyed.
Andy loved spending time with his children and grandchildren,
encouraging them to appreciate the richness of intellectual pursuit in a
chess match, a science demonstration or a sudden, impromptu poetry
recitation.
Andy is preceded in death by his wife, Dorothy, and survived by
his children, Lora (David) Boni, Jodi Cook, and Catherine (Steven) Baker;
grandchildren: Andrew and Melissa Boni; Joseph, Kimberly, Daniel,
Timothy, Michelle, Benjamin, Mary, and Samuel Baker; Elizabeth (Boni)
Murray, Jennifer (Boni) Ayres; and 4 great-grandchildren, 2 nephews,
and many other nieces, nephews, and cousins.
Services will take place on Saturday, January 28 at King of Kings
Evangelical Lutheran Church in Clifton Park, NY. The family will receive
those attending at 10:30 am followed by a funeral service at 11:00, and
a luncheon at 12:00.
In lieu of flowers, donations may be made to King of Kings
Evangelical Lutheran Church.
Spring Internment services will be announced at a later date.
Funeral arrangements have been entrusted by the family to the Gordon C. Emerick Funeral Home, 1550 RT-9, Clifton Park, New York 12065.
Please feel free to offer your on-line Condolences by using that tab on this website.