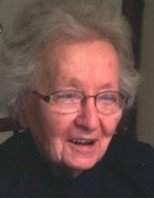 Mary M. Carter
Mary M. Carter, 89, passed away peacefully on Thursday July 6, 2017 at her residence in Malta NY. Daughter of the late Charles and Helen Mikita, Mary was born in Pittsburgh, PA on October 15, 1927. Mary spent most of her life in Pittsburgh and relocated to New York in 2009. She thrived on interactions with family and friends. Mary channeled her strong will to act as an emphatic champion for those around her and formed strong bonds within the community throughout her entire life as a result.
Mary is survived by her loving son and daughter-in-law, Randy & Stacey Carter; her grandchildren, Ethan, Grant & Abby; her niece Jacqueline (Kirk) Blum; and grandniece & nephews. She was predeceased by her beloved husband, William H. Carter in 2013. She was also predeceased by her sister, Olga Dowd and brother Charles Mikita.
Mary will be laid to rest alongside her husband at Jefferson Memorial Cemetery in Pittsburgh, PA. Memorial Services are private and will be held at the convenience of the family.
Those wishing to remember Mary in a special way may make memorial contributions in her name to The Community Hospice of Saratoga, 179 Lawrence St., Saratoga Springs, NY 12866.